The Dragon Shows Up At Joel Osteen's Church
And I beheld another beast coming up out of the earth; and he had two horns like a lamb, and he spake as a dragon (Revelation 13:11).
In case you're wondering if this picture is real, let me tell you about it. It was taken while Kanye was visiting Lakewood Church. In the background is a graven image of the globe, and within the globe is a clear image of a dragon. The dragon of Revelation 13 was prophecied to be in the image of a lamb, a clear depiction of Jesus, but speaking as a dragon. This represents the voice of Satan, but the image of Christ. Over and over again, we are warned not to be deceived by the way something looks.
When the woman saw that the fruit of the tree was good for food and pleasing to the eye, and also desirable for gaining wisdom, she took some and ate it. She also gave some to her husband, who was with her, and he ate it (Genesis 3:6).
Everyone is saying that Kanye seems so sincere. However, Jesus warned us of wolves in sheep's clothing. These are people who will have the appearance of God's children, but inside they are children of the devil. Jesus said that you will know them by their actions. "You shall know them by their fruits." (Matthew 7:16). The true test of whether one is saved is not in what they say, but in what they do. Faith without works is dead, but worse faith with bad works is deadly. While Kanye is promoting his "Jesus is King" album, he also is still selling his blasphemous Book of Yeezus.
He also is still selling his, "I Am God," record.
This is the most blasphemous record ever made, riddled with profanity; yet, Kanye still makes money from these evil works. Jesus said to the rich ruler, Go sell all that you own and give the proceeds to the poor. Kanye has never fed the poor. He has yet to take his vast fortune and give it away.
According to CNN, it was a packed house at Joel Osteen's Lakewood Church on Sunday as Kanye West performed his Sunday Service. The service began 40 minutes late as thousands waited to be seated at the Houston church. Aside from performing classics like "Jesus Walks" and songs from his ninth studio album, "Jesus Is King," West also performed gospel remixes to classic R&B ballads. Two notable songs West's choir remixed were SWV's "Weak" and Destiny's Child's "Say My Name," which was changed to "Call His Name."West also gave a shoutout to Rodney Reed, a Texas inmate facing death row whose execution was blocked Friday.
Tickets sold to get into the service
People were scalping tickets for $250
A small army of armchair entrepreneurs took to Craigslist and Twitter offering tickets to see West perform for as much as $250 each.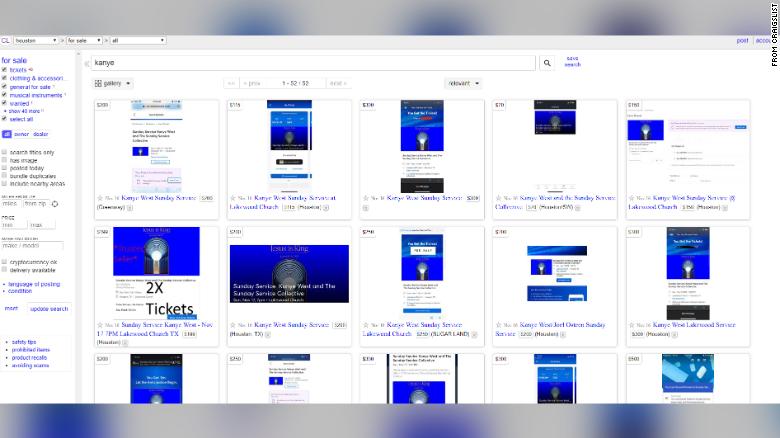 Lakewood Church offered the tickets for free through Ticketmaster on Saturday. General admission tickets were posted on Ticketmaster on Saturday morning for free on behalf of the Houston church and were fully distributed within seven minutes, Don Iloff, spokesman for Lakewood, told CNN. Since then, images of digital ticket offers have appeared on other sites for the 8 p.m. ET "Sunday Service" performance in Houston. The performance was "sold out," Iloff said."This is something that happens with digital tickets. This is an issue we've been dealing with for years and years," Iloff said regarding the scalping of tickets. "It's our Easter services on steroids. Kanye has an audience in and outside of the Christian world."The resale fervor also struck Twitter, where people were offering between $50 and $250 for a ticket.
Reading this, one cannot overlook the rebuke that God spoke to Israel through the mouth of the prophet Amos concerning their false worship. He said, "I hate, I despise your religious festivals; your assemblies are a stench to me" (Amos 5:21). In other words, God rejected their praise on the grounds of their bad fruit. They had festivals with singing and praise, but their hearts were far from God. God judged them according to their works. Notice what the Lord says in verse 23, Away with the noise of your songs! I will not listen to the music of your harps.
God will not regard our worship until our hearts are right towards him. If Kanye truly repented, he would do away with these evil works that he is still selling and promoting. Why doesn't he do this? Money.
Could it be that our generation has become so blinded by success and fame, that we no longer can discern good from evil? We truly need to wake up and pray for discernment.